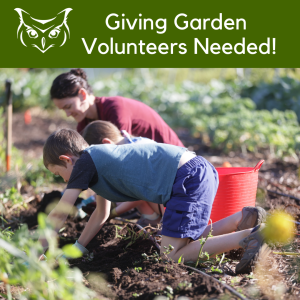 Each Tuesday morning of the harvest season, DPNC volunteers gather at the Craig Floyd Giving Garden to harvest, rinse, sort and load produce into the United Way truck.
From our garden in Mystic, the produce journeys to the Gemma Moran Center, and then out to communities in New London country through the United Way Mobile Food Pantry. Last year our volunteers helped grow and harvest more than 25,000 pounds of fresh produce donated to the food insecure in our communities.
Some garden volunteers are regulars, devoting hours each month to the success of the Giving Garden. Others come when they can through the growing season. Still others come in scheduled work groups with office mates, extended families, homeschool groups, neighborhood pals, moms and kids groups, high school honor societies, scout troops and church groups. We even had a group of (hardworking!) Mystic bartenders decide to spend their day off volunteering for us! We couldn't accomplish what we do in the garden without our volunteers.
Our first harvest is Tuesday 6/26 at 7 am, and we are seeking up eight volunteers to pick the season's first crops, ranging from Swiss chard to mint and oregano. Can't come Tuesday? We can use your help throughout the growing season, now through November!
Go to linktr.ee/dpnc, click on the Giving Garden Volunteer Shifts form and sign up for a day and time of your choice. That's it! (We welcome adults and families, but kids under 18 must be with an adult.)