Greentie at Coogan
HOMECOMING AT THE FARM
Friday, September 22, 6 – 8:30 pm
To celebrate 10 years of Coogan Farm, we're bringing our annual Green-Tie Celebration home to the farm this fall. Come revel with DPNC friends from near and far in recognition of all we have accomplished together in the last decade.
Tickets are available per person or gather your flock and reserve a special package of up to six tickets. Want to bring the whole office or neighborhood? Gather your gaggle for up to 10 tickets!
BUY TICKETS
Individuals $125
Flock (up to six tickets) $900
Gaggle (up to ten tickets) $1500
VIP recognition and swag bags included for Flocks and Gaggles.
Can't make it?
You can still donate to the Green-Tie Celebration in support of the Nature Center and its mission.
Support DPNC
This year's Green-Tie Celebration includes hearty hors d'oeuvres, delectable drinks, music and fun. We're also delighted to introduce the Maggie Jones Environmental Hero Award, honoring Executive Director Emeritus Maggie Jones at the event this year.
PARKING DIRECTIONS
Coogan Farm Event Parking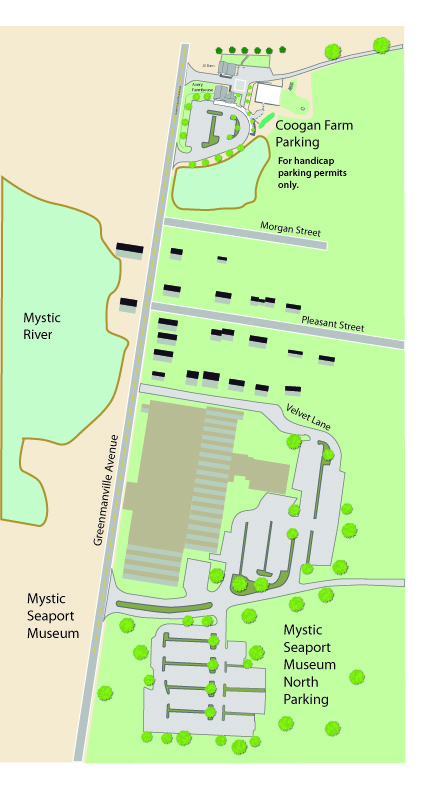 Green-Tie Celebration guests will park in the North lot at Mystic Seaport Museum, as seen on the map at the left. Shuttle service to Coogan Farm and back to the parking area will run continuously from 6 to 9 pm. Handicapped parking permits will be honored in the limited spaces at Coogan Farm.
WHAT TO WEAR?
Rustic chic attire suggested! Past attendees know that means just about anything you want it to mean, from wellies and woolies to gowns and fascinators. We don't have a red carpet, but we do have lively annual entries to our "Best Dressed Green-Tie" awards. Stay tuned for suggestions on how to accessorize for this year's theme. And remember, the Green-Tie Celebration will be held under our tent at the farm, rain or shine.